About Hands on Horses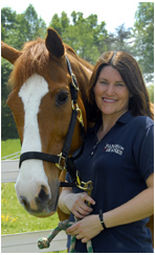 Courtney Molino, RVT, CERP, EEBW, ESMT, CCRA, CCMT founded Hands on Horses in 2004 to promote the overall wellness of companion and competitive animals. A registered veterinary nurse, Courtney completed the equine rehabilitation program through the University of Tennessee and is trained in the skills necessary to design and implement a comprehensive rehabilitation program for a variety of musculoskeletal and neurologic conditions. She received her certification in equine bodywork from Equinology, and offers both sports massage and myofascial release services to help keep the equine body in peak physical condition. Prior to Equinology, Courtney studied equine science and anatomy at Virginia Tech. In 2018, Courtney was approved to become an FEI Permitted Equine Therapist.
In 2006, a division focusing on canine bodywork was added.  Courtney is certified in canine rehabilitation by the Canine Rehabilitation Institute.  For several years, she saw patients at the Veterinary Orthopedic & Sports Medicine Group, a practice specializing in canine orthopedic and neurologic surgery and rehabilitation.  At VOSM, Courtney worked with a wide variety of patients, from those on a maintenance bodywork program to those needing post-operative rehabilitation care or suffering from sport-specific muscle injuries.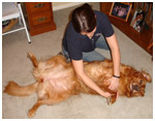 Courtney is a frequent presenter of bodywork clinics and demonstrations for organizations throughout Maryland, Pennsylvania and Virginia. She has been featured in numerous publications, including the Horse Journal, The Washington Post, Plaid Horse, Howard Magazine, WTOP Radio, Pennsylvania Equestrian, and The Horse of Delaware Valley.
Courtney is a member of the International Association of Animal Massage and Bodywork, the International Association of Animal Massage Therapists and the Associated Bodywork and Massage Professionals organization. She also serves as a member on the Maryland Horse Council.